Scavenger Hunt and photo swapping
11:06 PM
Ok once again I organized my self to actually get in on the photo Scavenger Hunt/Photo Swapping posts. Its funny I actually do go out and photograph all the challenges, write them down in my journal so I can remember the list when I'm out and about. Photograph with some type of focus and purpose. So I'm always happy that I am able to achieve the challenge for the week.....it fills some type of achievement from within.
Ok this weeks listo from over at Ashley Sisk's blog
Ramblings and Photos
was.....
1. Words
2. Under
3. Orange
4. Fly
5. Always look on the bright side of things.
Ok not to bad this week......I actually went out this morning and froze my butt of getting some pics this morning here in southern Germany....its getting cold!! But hey, then there was hot chocolate, so all was ok.
1. Words
Holy moly I love this sticker! It was stuck to the top of a garbage can, I spotted it randomly throwing out some garbage.
2. Under
My son spotted this frozen web, while we were walking across a bridge, this beauty was right under the hand rail. Only someone walking at the level could really have spotted that. Someone like my 7 year old:)
3. Orange
Crispy foggy fall mornings, always can make fall colors pop!
4. Fly
This one is actually from the summer driving through Croatia, we spotted some fire bombers putting out forest fires.
5. Look on the bright side of life.
I just thought this was cool....folks are bunkering down for winter, and this lovely patio owner is still rocking bright colors for the coming winter.
now be sure and to go check out some other great photographs for this week's Scavenger Hunt....
And don't forget, to check out the Sweet Little gals blog as well...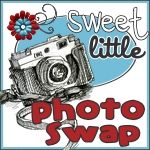 ok stay tuned for next weeks scavenger list....

Macro/Close-Up
Found Texture (not applied; Exploring with a Camera theme: click HERE)
Home (Mortal Muses current theme - Friday will kick off Mosaic Muse...be sure to link up)